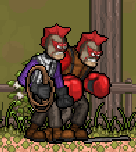 The
Snap Dragons
are a group of
Enemigos
that especially appear in the last fight of
Thistle Trail
, the third
area
in
Cactus McCoy 2: The Ruins of Calavera
. They seem to have a purple mask on their head and red hair with a spiked style, somewhat like punk. In the boss fight, they attack
McCoy
with especially
boxing gloves
and
bullwhips
.
Thirteen Snap Dragons also appear at Whiplash Rapids, the eleventh area, as part of a challenge. A few more also appear in Calavera Ruins.
In Thistle Trail, they can wield boxing gloves or a bullwhip. In Whiplash Rapids, they can wield an crocodile, rattlesnake, or chicken. In Calavera Ruins, they wield a Cat O' Nine Tails.
Ad blocker interference detected!
Wikia is a free-to-use site that makes money from advertising. We have a modified experience for viewers using ad blockers

Wikia is not accessible if you've made further modifications. Remove the custom ad blocker rule(s) and the page will load as expected.